For the first time, Pittsburgh has been in the national news for a mass shooting tragedy, something those who live here never thought would happen. Pittsburgh is a unique city, small enough that we still hold a smalltown friendliness and connection with our neighbors. While many people associate Mister Rogers with the Pittsburgh mentality, the community is made up of much more than that. To help the rest of the world know what we're made of, let's look at some pop culture that speaks to what makes Pittsburgh great.
---
George Romero and 'Night of the Living Dead'
George Romero wasn't a Pittsburgher by birth, but after he came here in the 1950s to study at the Carnegie Institue of Technology he stayed, adopting the status. He chose to film his revolutionary zombie movie Night of the Living Dead in the neighboring county of Butler. NOTLD premiered in Pittsburgh's Fulton Theater 50 years ago this year. Since then, the film's cult following and Romero's subsequent continuation of filming zombie movies here in Pittsburgh, like Dawn of the Dead, has cemented a love for zombies in the city. There are Zombie Mud Runs and 5Ks every year here. There's now a George Romero bust in the Monroeville Mall where he filmed Dawn of the Dead. The whole city mourned Romero's death last year because he chose to make our area the backdrop for his truly game-changing career and we will always claim him for that.
---
Flashdance
While steel working is no longer the driving industry of Pittsburgh anymore, that legacy is still very much part of the city's identity. Flashdance is the hit 1983 film about Alex Owens, a steel worker by day and dancer by night. She not only holds a hard labor job that the city is known for, but she dances in a working-class bar. The story and legacy of Flashdance shows the pride and abundance of working-class people in the city of Pittsburgh. We take pride in that our steel has built so many things around the world, but more importantly that we worked hard to make that happen. Our working-class foundation is just one of the examples of our strength. In the clip below, Pittsburgh is beautifully showcased for the opening scene of Flashdance. 
---
The Many Films Made Here
Pittsburgh not only is not just the subject of many popular movies, but also the hot spot for filmmaking. Thanks to our low taxes on filming, many Hollywood productions have partly filmed in the city and surrounding. Just in the past ten years The Dark Knight Rises, Love & Other Drugs, The Fault in Our Stars, Concussion, Southpaw, Jack Reacher, and Mindhunter have been filmed here. Along with Night of the Living Dead, the city holds its participation in the filming of Silence of the Lambs very close. The famous cage scene was filmed in The Soldiers and Sailors Museum on the University of Pittsburgh's campus. The list of every film made here is a very long one and to many in huge cities it may not seem like a big deal, but to the relatively small city is always makes us feel very important.
---
Andy Warhol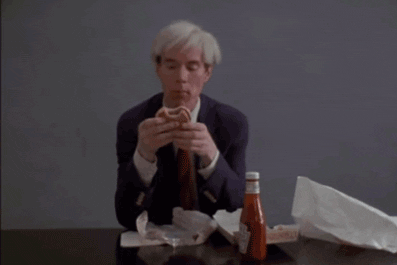 Famous pop artist Andy Warhol grew up in Pittsburgh before moving to New York City and becoming extremely famous. Warhol took the mundane and made it art, especially finding inspiration from the industrial complex of the city. In 1994, an old distribution building was turned into the Andy Warhol Museum, which features Warhol's work and changing exhibits of artists from around the world. Warhol helped make Pittsburgh a city of art. It was no longer just a city of industry, but also of creativity, which it continues to be today.
---
Fort Pitt Tunnel in 'Perks of Being a Wallflower'
For years, people driving through the Fort Pitt tunnel into Pittsburgh have been mesmerized by the sudden catapult into the city skyline once you come out the other side onto the Fort Pitt Bridge. It's one of the best entrances to a city ever, so pretty that even those who live here still get chills driving through it (even with the awful traffic). The geography of the city brings three rivers together amongst hills and valleys that create gorgeous views year round. Stephen Chabosky wrote a dynamite novel The Perks of Being a Wallflower about a boy growing up in Pittsburgh's suburbs that memorialized so much of the city, but especially its entrance. When he made the film adaptation here in 2012, he captured the beauty Pittsburghers see every day for young audiences everywhere and made the tunnel even more magical with David Bowie's "Heroes" playing in the background.
---
Wiz Khalifa's "Black and Yellow"
Sports are a huge influence on everything in Pittsburgh. Whether you are a diehard fan the Steelers (football), Pirates (baseball), or Penguins (hockey) or not, it doesn't matter. Everyone roots for the home team whenever they play. Pittsburgh has earned the name of "City of Champions" after the Steelers and the Penguins won championships in the same year in 2009. Sports events are the one place in Pittsburgh where thousands of people come together in one shared interest, no matter who you are. Even if you don't watch the games, you can tell when a team has lost a big game in the feeling of downtown. Wiz Khalifa became famous with his song where he references all the sports teams colors, black and gold. His song shows that the sports in Pittsburgh are not just entertainment, they're part of our identity and our pride. Whether or not you think "Black and Yellow" is a good song, it shows the kind of pride we hold for anything that represents our city.
---
Fences
August Wilson wrote many plays about his time growing up in Pittsburgh's Hill District, a historically African American community that goes back all the way to the Great Migration after the Civil War. In 2016, his play Fences was adapted for the screen by Denzel Washington, who starred in the movie alongside Viola Davis. Davis won her her 2017 Oscar for her lead role in Fences, which was deeply emotional. The movie and play is a good example of the racial history of the city that people don't talk about often enough. African Americans held a huge jazz scene in the Hill District during the mid 20th century, attracting even Lena Horne to sing in some of their clubs. There's been a racial struggle in Pittsburgh for a long time and it continues today with the death of Antwon Rose sparking national outrage.
---
Mister Rogers' Neighborhood
The man everyone associates with Pittsburgh is Mister Fred Rogers, the man who created the best children's educational program on television. Rogers grew up and lived in Pittsburgh all his life, specifically in the Squirrel Hill neighborhood where the synagogue shooting happened. Rogers emphasized the importance of loving your neighbor, a motto that every Pittsburgher should live by with our vast ethnic, class, and racial diversity. Mister Rogers produced his children's show here in Pittsburgh from 1968 to 2001 (with a brief break between 1970 and 1971). He exemplifies the caring community that Pittsburgh has always been, but especially in times of trouble. With Rogers as our guide, the community has always been welcoming and loving at its core, making the city one of the most livable in the country. There are many people from Pittsburgh that we take pride in knowing (like Mac Miller), but Mister Rogers is perhaps the one we need the most right now.
Hopefully, now you understand why a shock to one facet of our community has struck Pittsburgh in such a visceral way. We are innovators that take pride in those that use our city as the backdrop to their creations. We are hard workers that have centuries of industry in our ancestry and our lungs. We are filmmakers large and small who take pride in helping others create movies of all kinds. We are artists who draw upon the city and our experience to make the world a more colorful place. We are small parts of a beautiful landscape that awes us every day. We are sports fans long after the season is over. We are a community of rich history, culture, and struggle. We are lovers who care for one another no matter what. We are stronger than hate.
Related Topics: Culture, Pittsburgh
Emily Kubincanek is a Senior Contributor for Film School Rejects and resident classic Hollywood fan. When she's not writing about old films, she works as a librarian and film archivist. You can find her tweeting about Cary Grant and hockey here:
@emilykub_