As the 2018 Primetime Emmy Awards are upon us, we'll prepare ourselves for whatever the biggest night in TV will bring by looking back at the memorable moments of Emmys past. Hilarious and historical alike, these are the moments that keep us watching year after year, no matter how long the ceremony is.
---
The first Emmy: 1949
The first memorable moment is rightfully the first Emmy Awards show ever in 1949. At the time, there were less than million television sets in the entire country and the program only aired on a local Los Angeles station. The first award was given to Shirley Dinsdale and her puppet sidekick Judy Splinters for Most Outstanding Television Personality. She created the first children's show The Judy Splinters Show in Los Angeles history. Below is a clip of Shirley (and two imposters) on the game show To Tell the Truth. 
Ricky Gervais takes his Emmy back from Steve Carell: 2008
In 2007, Gervais didn't attend the ceremony and therefore wasn't there to accept his award for Outstanding Lead Actor in a Comedy Series. Presenters Jon Stewart and Stephen Colbert gave the award to their "friend Steve Carell in an adorable way to make up for Gervais's absence. The following year, he took the time to approach Carell for the statue, creating a hilarious showdown between the two versions of the Michael Scott/David Brent character. Carell keeps a straight face throughout the whole ordeal, which makes this moment even funnier.
Viola Davis's tearful acceptance speech: 2015
There are many Emmy winners that have made history since its first ceremony in 1949. Donald Glover, Lena Waithe, and The Handmaid's Tale all broke ground just in last year's award show. Every time someone makes history by being the first in an award category, it reveals how television continues to evolve and celebrate new voices. One stands out amongst the many historic wins–Viola Davis's win as the first woman of color to win Best Actress in a Drama. Beating another woman of color, Taraji P. Henson, in the category (another first), Viola made a beautiful, poignant speech that drew attention to the lack of roles for women of color. She quoted Harriet Tubman and made everyone watching weep.
Lucille Ball forgets her glasses: 1975
Whether it was scripted or not, one of the funniest moments in Emmy history is when Lucille Ball, comedic actress known for I Love Lucy, couldn't read the card as she presenting an award. Instead of freaking out, she makes a joke of it, calling for her glasses on stage. The clip below proves she's one of the funniest women of all time.
https://www.youtube.com/watch?v=wmCwTYdN58Q
Sean Spicer crashes the show: 2017
A memorable moment for how truly distasteful it was, Sean Spicer's appearance proved that Hollywood wasn't as in touch with reality as they like to think. Spicer made a surprise appearance everyone wanted about as much as people (no one) wanted Louis C.K. to have a surprise set last month. Making a joke of the real lies he told while working for Trump, Spicer fabricated facts that the 2017 ceremony saw the largest audience in history. The gimmick of making fun of Spicer and then allowing him to come out and joke about his own corrupt actions made light of serious issues that no one in the audience seemed to want to deal with, just laugh at. It wasn't a pretty picture for the Emmy's. I refuse to add a clip of Spicer since he doesn't deserve to be watched anymore. Here's a gif of Lauren Dern at the awards show instead.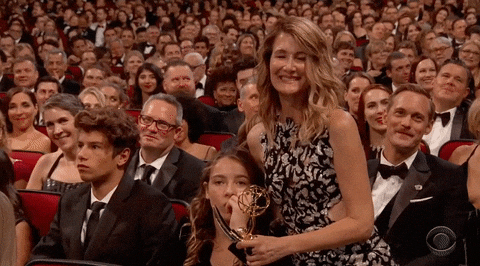 A pageant of outstanding funny women: 2011
While Rob Loewe read the nominees for the Outstanding Lead Actress in a Comedy Series category, each nominee walked up to stand on stage beside him. Loewe looked at his Parks & Rec co-star Amy Poehler confused, obviously not in on the joke that the six nominees were doing a pageant bit. They stood in a line, holds hands and hugging each other like pageant contestants waiting to hear who won. They drew a standing ovation before the winner was ever announced. Melissa McCarthy ultimately won and the camera zoomed in on her surprised face at just the right time. Lighthearted and funny moments like this make watching the excruciatingly long ceremony worth it.
https://www.youtube.com/watch?v=mAkY24QZ6gA
Jon Hamm crawls onstage: 2015
After being nominated 16 times, Jon Hamm finally won an Emmy for Outstanding Lead Actor in a Drama for his performance as the incomparable Don Draper. Either he was too surprised or he was exhausted from the years of proving to the Academy he deserved this award to no avail, Hamm ignored the steps and crawled onto the stage. Anyone with eyes was thankful that the camera cut to showing Jon Hamm's butt as he accepted his award. This moment combined the two things we love in an award show: a well-deserved win and Jon Hamm's butt.
Elaine May & Mike Nichols celebrate TV garbage: 1959
The 11th Emmy Awards had an odd start. Vice President Richard Nixon was in attendance and made a speech about the importance of free speech on TV. Afterward, comedy duo Elaine May and Mike Nichols did a skit where they presented the Total Mediocrity Award to counteract the celebration of just the greatness in the TV industry. It mimics comedy later a staple on Saturday Night Live and proves that even the old award shows could have some fun.
https://www.youtube.com/watch?v=FyM7AJiC0Nk&feature=youtu.be
Andy Samberg gave his working HBO GO login on air: 2015
Needless to say, the 2015 Emmy's was pretty awesome. The third moment from that ceremony to make this list is Andy Samberg giving out his HBO GO login to everyone watching. He told the audience to go to town and watch Game of Thrones on his account. To the surprise of everyone, it worked! HBO had said before the ceremony that they didn't care if you lent your login to your friends or whoever you wanted, they were "in the business of creating addicts." His login only worked for a while, but it was a generous act, no matter how brief.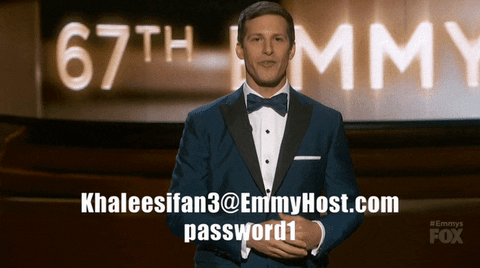 The 70th Primetime Emmy Awards airs on NBC at 8 EST on Monday, September 17th.
Emily Kubincanek is a Senior Contributor for Film School Rejects and resident classic Hollywood fan. When she's not writing about old films, she works as a librarian and film archivist. You can find her tweeting about Cary Grant and hockey here:
@emilykub_