If you don't like the current Oscar categories, do what we did and make your own.
Every year the Oscar nominations disappoint in some aspect, either leaving out films that deserve recognition or highlighting performances that were overrated. It's inevitable since there are only so many spots for nominations and only so many categories to choose from. Since the Oscars leave out some great parts of the movies we saw in 2017, we decided to honor them with some new categories. The following awards have been selected by our own Ciara Wardlow and Emily Kubincanek.
Best Food Item In A Supporting Role
Winner: The Mushroom, for its appearances in Lady Macbeth, The Beguiled, and Phantom Thread
While Rooney Mara's pie scene in A Ghost Story left a lot of people with a lot feelings and Call Me By Your Name's salacious peach scene has left viewers unable to view the stone fruit in the same light ever again, women fought the patriarchy with mushrooms in no less than three 2017 releases with a 100% success rate. You just can't argue those numbers.
Best Color Grading
Winner: The Florida Project
'nuff said.
Most Obvious Awards Grab
Winner: Gary Oldman in Darkest Hour
In the WWII period piece Darkest Hour, highly recognizable famous actor Gary Oldman transforms into highly recognizable British Prime Minister and source of motivational poster quotes Winston Churchill, who looks absolutely nothing like him.
Best Best Friend
Winner: Rod Williams (LilRel Howery) in Get Out
Most horror stories do not have a happy ending. But most horror film protagonists do not have friends half as suspicious, dedicated, or generally competent as Rod Williams, the best PR day the Transport Security Agency didn't even have to pay for.
Best Cameo
Winner: Matt Damon in Thor: Ragnarok
"Is that… Matt Damon?" literally everyone wondered in the exact same moment. Both of Damon's starring roles last year left us wanting a refund for both hours of life wasted and brain cells killed, but his utterly unexpected brief appearance as "Loki" in Loki-Odin's play about himself goes to prove that when it comes to Matt Damon, quality and quantity of screen time can be not just not connected, but directly in opposition.
Best Pop Culture Reference
Winner (Tie): "I'm Mary Poppins, y'all!" from Guardians of the Galaxy, Vol. II and the prisoners' demand for The Winds of Winter and A Dream of Spring in Logan Lucky.
Yondu's Mary Poppins reference was practically perfect in every way — and inspired enough riffs to warrant its own KnowYourMeme page. Meanwhile, the warden telling the rioting prisoners that he will not be able to meet their demand for the last two volumes of George R. R. Martin's A Song of Ice and Fire because they have not been published yet only for impromptu leader Naaman (Jon Eyez) to reply, "That is total bullshit! George R.R. Martin was supposed to deliver The Winds of Winter to his publisher over two years ago!" is #relatable. It had to be a tie.
Best Use of a Non-Original Song
Winner: "Bellbottoms" by The Jon Spencer Blues Explosion in Baby Driver
Hard to pick just one song off the Baby Driver soundtrack to highlight, but "Bellbottoms" was more important to the film than just making the opening scene badass. Edgar Wright envisioned Baby Driver all because of this song and boy did he put it to good use. It makes even Ansel Elgort look cool!
Most Interesting Sex Scene
Winner: the bathroom scene in The Shape of Water
This one had to go to the most romantic sex scene of the year, where Eliza somehow fills an entire bathroom with water so she can swim and have sex with the Fishman, "together." It may not be incredibly realistic, but it is so cute! Romance aside, this scene includes a nonhuman being and isn't weird, so it's automatically the most interesting.
Best Film Twitter Presence
Winner: @TaikaWaititi
Sorry you're not me. #god pic.twitter.com/M8tkeehbsK

— Taika Waititi (@TaikaWaititi) July 22, 2017
One of the best things about making Thor: Ragnarok was getting to work with awesome Australian actors like Naomi Watts! #Ragnarok #sdcc2017 pic.twitter.com/LCGJf6euTq

— Taika Waititi (@TaikaWaititi) July 25, 2017
…stays in the shadows. https://t.co/sbcxu4JfHi

— Taika Waititi (@TaikaWaititi) December 9, 2017
If you loved the irreverence of the latest Thor installment, Thor: Ragnarok, then I hope you're following director Taika Waititi on Twitter. In addition to providing great behind the scenes photos and anecdotes from Ragnarok and his other equally wonderful films, including What We Do In The Shadows and Hunt for the Wilderpeople, Waititi's snarky charm shines through in his hilarious responses to other filmmakers' tweets, and he doesn't shy away from political content either. And it would be criminal not to mention his legendary fashion sense.
Best Movie Poster
Winner: Good Time
Aside from having a fantastic score, great performances, and a fast-paced screenplay (which weren't recognized by the Oscars), the Safdie Brother's thriller Good Time has the best poster of the year. As strikingly neon as the film itself, the picture is made up of important aspects of the story, the carnival, the bottle of acid and of course Robert Pattinson as Connie. This poster is well thought out and beautiful without any context.
Best Dance Moves
Winner: Armie Hammer in Call Me By Your Name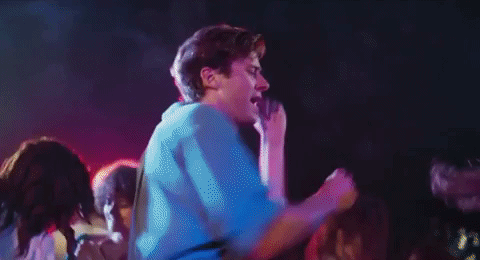 It might have been torture for him to dance in front of the entire crew of Call Me By Your Name, but Armie Hammer charmed us with his dance moves in the 80s colored dance scene. He had the help of "Love My Way" by the Psychedelic Furs, but Hammer would've looked just as cool in silence.
Best Prop
Winner: The teacup in Get Out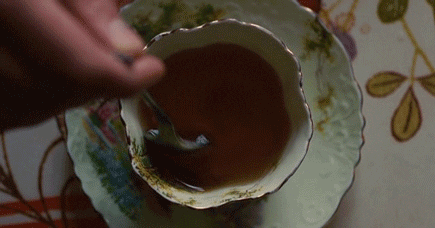 There were few props as memorable as the teacup in Get Out. It played a huge part in the story in a mesmerizing way. Instead of the typical way of hypnotizing in movies (waving a watch in front of someone and saying "You're getting very sleepy"), the teacup was unexpected and an ordinary object transformed into a weapon. Now that's how you use a prop.