AMC's zombie-pocalypse drama The Walking Dead should have everything going for it. It holds a spot on the Sunday night lineup of a network with a seemingly can't-miss scorecard when it comes to original drama series (I loved The Killing, I don't care what anyone says); it boasts a dark and usually unexplored TV subject matter; and it's season 2 premiere broke cable ratings records. Additionally, it's a never-fail trending topic every Sunday night — a subject echoed through the virtual voices of social media-ers everywhere.
Before I jump into the oh-so-inevitable criticism (I promise, I do actually LIKE television), let me preface my musings with this: I LOVED this show when it premiered. Like many other television enthusiasts (read: hermits) I stayed in on Halloween eve, lapping up the undead adventures of Rick Grimes, et. al with an insatiable fervor. Lately, though? I find myself hemming and hawing for ¾ of every hour-long episode about just what causes this show to fail in my eyes — the characters. Sure, there are a few that aren't entirely detestable, but the majority of the people on The Walking Dead are so deplorable that by the end of each week, you're praying that they're the next blue plate special at the zombie café. So while we all begrudgingly ponder what season 2's conclusion holds, I proudly present my very own Walking Dead Character Annoyance Index. Enjoy.
Rick
Backstory: Sheriff. Likes to wear his uniform as though it is the only clothing available. Woke up from coma in season 1 to discover that the world had gone all undead on everyone's asses.
Most memorable moment: Single-handedly taking on a zombie swarm on horseback in season 1.
Annoyance level: 3 walkers. Listen, Rick should be everyone's favorite character. He's the John Wayne of Zombietown, rolling in with his gold star and leading the pack. However, Rick is one of the worst offenders here, and mainly by no fault of his own. The writers seem to want to make him their golden boy, yet poor Andrew Lincoln is barely even one-note, a lifeless character who seems most comfortable when portraying a man down to a half-pint of blood.
Lori
Backstory: Rick's wife. Skinny. Frail. Bitchy. Likes plaid.
Most memorable moment: Getting over her believed-to-be-dead husband by screwing his asshat best friend.
Annoyance level: 5 walkers. This woman, you guys. She's worse than the worst. She's subterranean bad. She screws the mayor of DoofusTown, and spends the rest of the series treating everyone else like crap. Except for Carl. More on Carl later.
Dale
Backstory: Old guy. Wears hats.
Most memorable moment: Fixing that damn camper every week. Seriously, is this the most poorly functioning recreational vehicle of all time?
Annoyance level: 1 walker. While he serves little purpose other than to hang around and act somewhat judgmental, Dale's actually one of the least-reprehensible people on the show. He's the Bob Vila of the zombie nation.
Andrea
Backstory: Blonde, vaguely pretty (but not enough to counteract her insufferable nature).
Most memorable moment: Took sister out after she got bitten by a walker.
Annoyance level: OFF THE CHARTS. There's something to be said for anchoring your cast with women who make the Sex and the City gals look like the cast of Little Women, but this broad takes the cake. Each week she's more annoying than the previous, and I for one am just waiting for the day when Dale snaps and pushes her out of the moving Winnebago. Do it, Dale. No one would be sad to see her go.
Glenn
Backstory: Asian. Generally likable. The Hiro Nakamura of TWD.
Most memorable moment: Taking one for the team by being lowered into a swollen zombie-filled well.
Annoyance level: Half a walker. If that! Seriously, who hates Glen?
Shane
Backstory: Sherrif's deputy. Possessor of physical features that are vaguely Neanderthal. Mayor of DoofusTown.
Most memorable moment: Sacrificing portly Otis to the walkers in order to get the medical supplies necessary to save young Carl.
Annoyance level: 5 walkers. There isn't much more to say. He killed Otis, his accent is bad, and he pseudo-raped Lori at the CDC. I don't like him. Done.
Carl
Backstory: Child. Son of Rick and Lori. Goofy looking and Opie-esque.
Most memorable moment: Taking a bullet to the gullet when poor Otis confused him for a deer.
Annoyance level: 3 walkers. Carl should get a pass, because of his age, but I'm not that kind. The kid causes too many problems to let things go.
Daryl
Backstory: Redneck. Brother of meth addict left behind in season 1.
Most memorable moment: Nothing sticks out, but homeboy's pretty good with some arrows. He's a regular Legolas of the walker world.
Annoyance level: 1 ½ walkers. I'm not quite sure how it happened, but Daryl really eclipsed some of the others on the likability scale. He's sweaty, abrasive, and even mildly attractive. Plus, he doesn't really take any bull, and with these people, that's almost admirable.
T-Dog
Backstory: Don't make me say it. OK, fine. Token black guy.
Most memorable moment: Getting all tetanus-y when he got sliced and diced by a stray vehicle.
Annoyance level: 3 walkers. He doesn't REALLY have enough scenes to warrant his annoyance, but after dissecting these people (see what I did there?) my patience is really wearing thin.
Carol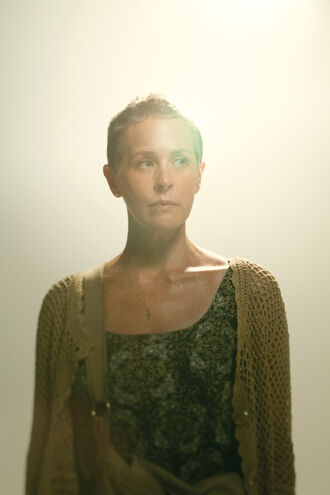 Backstory: Had a mean and abusive husband. He got his in the end. Quiet, nice enough, has short hair.
Most memorable moment: I just… I can't really think of one.
Annoyance level: 4 walkers. Given just because she's a woman on this show. They have no choice but to reek of fail.
With characters like these, it's no wonder that Sophia ran off and (Spoiler Alert!) crossed over to the dark side. She couldn't handle these people anymore than I can, and I don't blame her. Are you willing to overlook the shortcomings of this band of not-so-merry misfits? Fire away!
For more on the world of television, walk lively over to the Channel Guide archives.