Why Watch? In the spectrum of using an inappropriate platform to deliver an important social message, this short film from Nina Paley (Sita Sings the Blues) reaches Monty Python levels of purity and dedication. Eschewing the typically dry, somber way that profound conflict is often portrayed (while utilizing the absurdity of action movie violence), This Land is Mine strips away everything except murderous domination in order to color a history of a land with many names.
Israel, Palestine, The Levant. This short doesn't exactly offer illumination on the current crisis happening in Gaza, but it condenses thousands of years to show one angle on and beyond the devastation. Again, wacky animation with Andy Williams boldly crooning "The Exodus Song" and a body count rising is a teaching method with teeth. It's aggressive, semi-satirical and proves you can laugh with your jaw on the floor.
There's a read on this movie that it crassly shares a hopeless message of the land being doomed to bloodshed, but I don't see it that way. Instead, I think of it as a simple reconstruction of reality — pared down as it may be. No, the Eastern Mediterranean isn't defined solely by its wars (not by a long shot), but it's powerful to see so many people singing the same song.
What Will It Cost? About 3 minutes.

Early Man
This generic "cave man" represents the first human settlers in Israel/Canaan/the Levant. Whoever they were.
Canaanite
What did ancient Canaanites look like? I don't know, so this is based on ancient Sumerian art.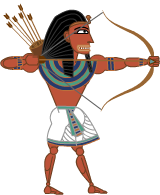 Egyptian
Canaan was located between two huge empires. Egypt controlled it sometimes, and…
For a complete guide to who is stabbing and shooting whom, check out Paley's website.