The Gods at ABC have smiled down upon us. In what seems like the first logical thing done in the 2012 midseason, the Disney network has cancelled the insufferable Work It, the Bosom Buddies­-style "comedy" about two men who cross-dress to get a job in pharmaceutical sales. While this news is a triumph on its own, it paved the way for another exciting revelation – a Valentine's Day premiere date for cult favorite Cougar Town. Praise Big Carl! The return of this Bill Lawrence comedy is some of the most exciting news since, well, the cancellation of Work It. This comedy, premiering in 2009 after Modern Family, is a wine-soaked, sun-bathed Golden Girls of the new age; a poorly-named glimpse at the lives of the Sex and the City gals, had they headed to suburbia. They do everything wrong – handling everyday situations as inappropriately as the Seinfeld gang; acting sometimes as selfishly as those deplorable Paddy's Pub managers over on It's Always Sunny in Philadelphia – but these characters are strangely endearing in a way that's perhaps amplified by chardonnay.
Now, I'm not claiming that Cougar Town is the highbrowiest of programs. Heck, its (admittedly horrible) name is derived from a term coined by the Kardashian generation. Yes, Courtney Cox has indulged in so much botox that her Monica Gellar qualities are almost unrecognizable, and her voice can be a little grating. No, you certainly won't get any intellectual benefit from it, a la Mad Men, or Breaking Bad, or Homeland. I'll reiterate: Emmy worthy, this ain't.
But it's one of the best things on television, and you should give it a chance. Here's why:
1. Busy Phillips
The world has been seriously lacking in Kim Kelly since the cancellation of Dawson's Creek, and Bill Lawrence changed that. Sure, we can thank Michelle Williams for making Busy a regular fixture of awards season, but thankfully the enjoyment continues into primetime. On Freaks and Geeks, she was crass, she was mean, she was a bad influence. But we loved her. This go 'round, she's Laurie Keller, the ditzy, boozy, personal assistant to Courtney Cox's Jules.
2. Ian Gomez and Brian Van Holt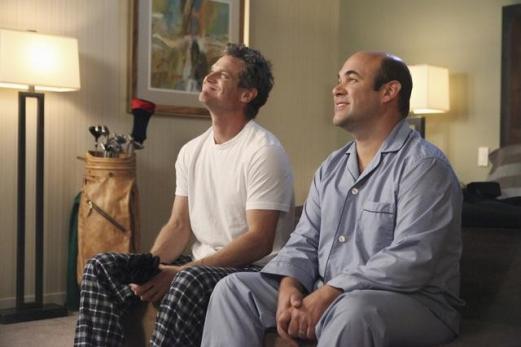 Or, as they're known around the neighborhood, Andy and Bobby. These two idiots are like the Tweedle Dee and Tweedle Dumb of this leisurely Floridian town. They have a mutual manchild-dom that only the other can fully appreciate. Andy serves as wingman, caddy, and basic admirer to Bobby, his only outlet from sometimes ball-busting wife Ellie. In fact, "he loves his wife, almost as much as he loves his coffee. And he loves his coffee almost as much as he loves hanging with Bobby."
3. Penny Can!
"If the penny goes in the can, you get a point. If it doesn't, you don't. First team to 1000 points wins." And it's as simple as that. Yep, mindless games are a fixture of Cougar Town, and the cul-de-sac gang gets more than a little cutthroat. If you're just as ruthless, you can even play online.
4. Crossovers and Cameos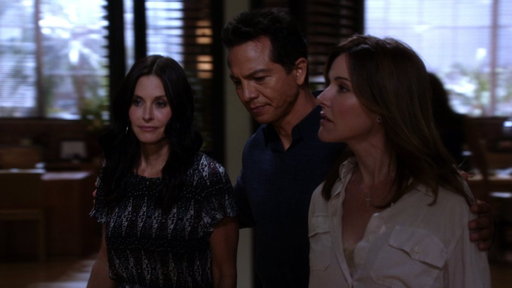 When the fall (and later, midseason) lineup was revealed, and Cougar Town was nowhere to be found, fans were up in arms about the lack of penny can gracing the small screen. So what did creator Bill Lawrence do? He took his characters elsewhere, infusing them into shows across the board – from Grey's Anatomy to The Middle to Private Practice to Happy Endings and even NBC's cult favorite, Community. And what does a good TV nerd love more than some meme convergence? Nothing, I tell you. Nothing.
5. Bill Lawrence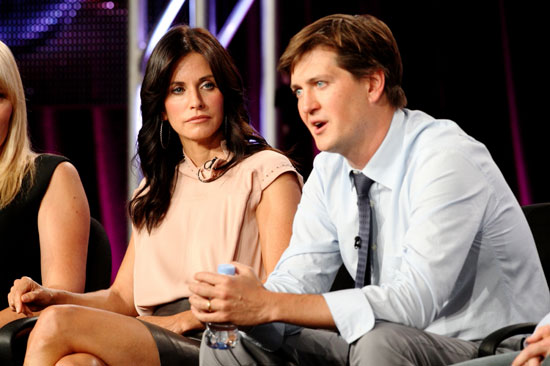 Say what you will about Scrubs – that it stayed past its prime; that it was kitschy and lame; that it featured far too much Zach Braff – and I'm likely to agree with you. But what it lacked in depth, it made up for in spunk, and that's courtesy of showrunner Bill Lawrence. He brings to life a distinct quirkiness in both shows, which if applied to many others, would translate to televised nails on a chalkboard. Remember Scrubs' tall doctor? What about Rowdy? Or Elliot's neuroses – so present they could have had top billing? All of Lawrence's quirks have been bottled up and sprinkled all over Cougar Town, including the presence of his wife, Christa Miller.
Maybe those aren't reasons enough to sway you to tune in when the show returns February 14th, and I've exhausted the past several hundred words reminding myself why I love it – but I hope you'll at least give it a shot. I know I'll be there, giant glass of vino in hand, practicing my mad penny can skills.