Ah, the Golden Globes. The redheaded stepchild of award show season – a veritable island of misfit toys in terms of pop cultural offerings. Ridiculous as they oftentimes may be, the picks of the Hollywood Foreign Press Association are now among us, and up for the inevitable scrutiny of the Internet as a whole.
Film nominations aside, the small screen selections for this year's statuettes are as random as ever. With regular contenders ineligible for nomination (Mad Men), and former heavy-hitters now struggling to stay relevant (I'm looking at you, Desperate Housewives and Grey's Anatomy), the pool of nominees is a hodgepodge one – often seeming as shallow as Paris Hilton.
So just which shows should take home the statues when the Golden Globes are telecast January 15th? Here's my breakdown of the nominees – from the way-to-go to the WTF.
Best Drama Series
Nominees: American Horror Story, Boardwalk Empire, Boss, Game of Thrones, Homeland
First of all – American Horror Story? Really? This show, wrapping up its first season this week, is one of the most polarizing programs around – yet another lesson in "how Ryan Murphy manages to take something great and drive it into the ground pretty quickly" (see example: Nip/Tuck.) Anyhow, while HBO's hit Game of Thrones ("it's a telling of human stories in the fantasy realm – a crossover hit!") has garnered tons of fan following, Showtime's Homeland is one of the biggest and buzzworthy shows of the year. Boardwalk Empire is certainly a weighty contender, though its plotline is one I've never quite been able to get behind. No time need be devoted to Boss, because honestly who knew this was even a show?
Who I'd love to win: Homeland
Who will win: Boardwalk Empire 
Best Actress: TV Drama
Nominees: Claire Danes (Homeland), Mirelle Enos (The Killing), Julianna Margulies (The Good Wife), Madeleine Stowe (Revenge), Callie Thorne (Necessary Roughness)
Claire Danes is getting constant praise for her portrayal of Carrie Mathison on Homeland, and Mirelle Enos brought new depth to Det. Sarah Linden's struggle to solve the murder of Rosie Larsen on The Killing. Callie Thorne, one of Rescue Me's most irritating females, has her new USA vehicle (which I'll admit I have never had any interest in watching), and Madeleine Stowe personifies icy demeanor on Revenge with aplomb. The trophy, though? It'll go to regular winner Julianna Margulies, whose portrayal of jilted spouse Alicia Florek seems to be a fan amongst award shows year in and year out.
Who I'd love to win: Claire Danes
Who will win: Julianna Margulies
Best Actor: TV Drama
Nominees: Steve Buscemi (Boardwalk Empire), Bryan Cranston (Breaking Bad), Kelsey Grammar (Boss), Jeremy Irons (The Borgiasi), Damian Lewis (Homeland)
There's no question in this category. Bryan Cranston is the darling of award shows – failing only to take the Emmy home when he wasn't eligible to be nominated (big ups to Kyle Chandler – he deserved to take that home. Texas Forever.) But he's got some competition in Steve Buscemi, whose portrayal of Nucky Thompson is as intense as he's ever been.
Who I'd love to win: Bryan Cranston
Who will win: Bryan Cranston
Best Comedy or Musical Series
Nominees: Enlightened, Episodes, Glee, Modern Family, New Girl
There's no denying that the unstoppable trophy-winning show Modern Family s a force to be reckoned with, but in this writer's mind, it's got some competition this year. Showtime's Episodes, our long-awaited (okay, maybe not) reunion with Matt LeBlanc, features LeBlanc in a fish-out-of-water ensemble that has me rolling in the aisles (of my own living room). Laura Dern's Enlightened has got fans aplenty, though the network's confidence in the show has begun to falter. Glee, well, Glee is Glee. (See above, re: American Horror Story.) New Girl has certainly proven to be a hit, but its appeal is less widespread, and thus deems it a bit of a dark horse.
Who I'd love to win: Episodes
Who will win: Modern Family
Best Actress in a TV Comedy or Musical
Nominees: Laura Dern (Enlightened), Zooey Deschanel (New Girl), Tina Fey (3o Rock), Laura Linney (The Big C), Amy Poehler (Parks and Recreation)
Welp. Here's a category I actually agree with – almost wholeheartedly. As said before, both Dern and Deschanel helm shows that are on the quirky side, making them difficult choices. Laura Linney and Tina Fey have both received praise for their roles, which just leaves Amy Poehler, the funny lady who embodies the "always a bridesmaid, never a bride" sentiment with ample gumption. Please, HFPA, reward this woman, and resuscitate the optimistic hopeful councilwoman in us all.
Who I'd love to win: Amy Poehler
Who will win: It's a Tina Fey/Laura Linney toss-up
Best Actor in a TV Comedy or Musical
Nominees: Alec Baldwin (3o Rock), David Duchovny (Californication), Johnny Galecki (The Big Bang Theory), Thomas Jane (Hung), Matt LeBlanc (Episodes)
In a bit of an interesting twist, Emmy darling Jim Parsons was looked over for this year's nomination, in favor of former Roseanne star Johnny Galecki. Alec Baldwin, whose portrayal of Jack Donaghy is an often-rewarded one, is also an obvious contender, as are the equally scandal-laden David Duchovny and Thomas Jane. The dark horse, in my eyes? Joey Tribiani himself. Dr. Drake Ramore really deserves his moment in the spotlight. A glaring omission in this category? Nick Offerman, who tiptoes Ron Swanson between curmudgeon and teddy bear on a weekly basis.
Who I'd love to win: Matt LeBlanc
Who will win: Alec Baldwin
Best Performance By An Actress In A Supporting Role In A Series, Mini-Series Or Motion Picture Made For Television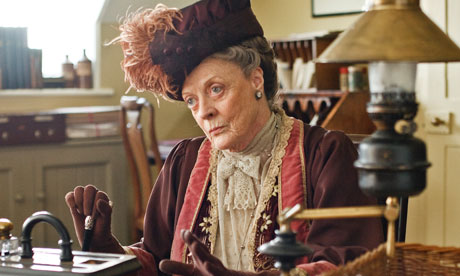 Nominees: Jessica Lange (American Horror Story), Kelly Macdonald (Boardwalk Empire), Maggie Smith (Downton Abbey), Sofia Vergara (Modern Family), Evan Rachel Wood (Mildred Pierce)
The HFPA lumps all supporting roles into one category, which brazenly leaves many unacknowledged. Kelly Macdonald certainly shows off her acting chops on Boardwalk Empire, and Sofia Vergara (kitschy as her performance may be) scores more than a few laughs on Modern Family. However, the standout? Dame Maggie Smith, whose portrayal of the Dowager Countess on Masterpiece's Downton Abbey earns her some much-deserved recognition.
Who I'd love to win: Maggie Smith
Who will win: Kelly Macdonald
Best Performance By An Actor In A Supporting Role In A Series, Mini-Series Or Motion Picture Made For Television
Nominees: Peter Dinklage (Game of Thrones), Paul Giamatti (Too Big to Fail), Guy Pearce (Mildred Pierce), Tim Robbins (Cinema Verite), Eric Stonestreet (Modern Family)
Peter Dinklage took home the Emmy for his fantastic portrayal of Tyrion Lannister on HBO's Game of Thrones, and thus this award should be his to lose. However, due to the bonkers logic of this show, he's going head-to-head with Eric Stonestreet, pretty much the one to beat when it comes to this category. Throw in acting greats such as Guy Pearce, Tim Robbins, and Paul Giamatti? Well, this race might be too close to call. Missing from this category are Adam Scott, whose Ben Wyatt on Parks and Recreation is beyond charming, and Ty Burrell, who takes awkward dad to a new level each week with his portrayal of Phil Dunphy on Modern Family.
Who I'd love to win: Peter Dinklage
Who will win: Eric Stonestreet
—
There you have it, folks. My two cents on who and what will go toe-to-toe at the least important award show of the season. Who are you rooting for?